Free Home Visit Will Writing Consultation in West Horsley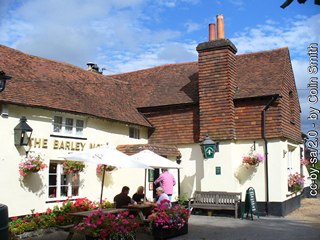 The Barley Mow, West Horsley
That's right, I come to you—daytime or evenings, weekdays or weekends! You don't have to take a day off work, drive into town, find a parking space, walk to an office, and then pay £200 or more for a one hour consultation.
Your consultation is totally free and without any obligation. I take the time to understand your personal circumstances and your wishes in making a Will. I'll explain everything without confusing legal jargon so that you can make a Will that does what you want it to do. After our meeting, I will write to you summarising everything we discussed with a fixed fee quotation for writing your Will.
Preparing to Make a Will
Before your consultation, I will send you an information pack which explains everything you need to know about making a Will.
You will need to make some important decisions which require careful thought. The information pack will help you consider such things as:
What assets you have and what you can gift by Will
Any legacies of money or special possessions you wish to gift
Whom you wish to receive the rest of your estate and in what proportions
Who you want to administer your estate as executors
Who you want to manage any Trusts created in your Will
Who you want to be the legal guardians of your children
Protecting your legacy for your spouse or partner and your children
Mitigating long term care fees and Inheritance Tax
Working through the information pack will help you clarify your thoughts and ensure that you get the most from your consultation.
Writing a Will that's best for you
Nowadays family circumstances can be quite complex with increasing separation, divorce, cohabiting couples and children from different relationships.
Once we have discussed your personal circumstances and wishes, I'll advise you of the best way to write a Will for your situation. This can include such considerations as how to:
Avoid inadvertantly disinheriting your children
Prevent Social Services taking your children into care
Protect an inheritance for a vulnerable person or disabled child without affecting their benefits
Provide for a cohabiting partner who would otherwise receive nothing
Safeguard your home from being forcibly sold, for example, to pay care home fees
Plan business succession
Minimise Inheritance Tax
A well written Will protects your loved ones and ensures that your estate is distributed as you would wish.
Your Local Professional Will Writing Service
My name is Tony Whitehorn. I am a professional Will writer and fully qualified Member of the Society of Will Writers. Unlike a solicitor, I am not involved in any other areas of law. I won't have been working on a divorce case just before your consultation and a house conveyance immediately afterwards! I specialise solely in writing Wills. Nor do I have expensive high street offices and staff to maintain—I come to your home in West Horsley. This means I can keep my fees low and still offer you a high standard of quality and service at an affordable price.
My membership of the Society of Will Writers assures you that:
I am professionally qualified to write Wills and associated documents
I keep up to date with current legislation through continuous professional development training
I am regulated by the Society's Code of Practice
My work is underwritten by £2 million Professional Indemnity Insurance
I offer a local professional service. I am not part of a franchise, national chain, or huge corporation. I visit you at home, take time to understand your circumstances and wishes then draft your Will myself—it is not sent to a head office to be drafted by someone who has never even met you!
Once you have made your Will, you'll have peace of mind knowing that you've safeguarded your family's future. Don't wait until it's too late—start today by arranging a date and time for me to visit you at your home in West Horsley.