Secure Document Storage
"Where's the Will?"
Your Will is one of the most important documents you will ever sign. If it is lost and cannot be found, your estate will be distributed according the rules of intestacy. Even the slightest mark or damage to your Will can render it invalid and you intestate. It must be kept safe and secure yet readily accessible.
The National Will Safe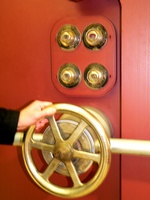 I have partnered with the National Will Safe to offer you secure Will storage.
For a small annual fee the National Will Safe will store both your and your partner's Wills and other documents such as Letters of Wishes and Lasting Powers of Attorney for no additional charge. You can retrieve your documents easily and quickly whenever you want, for example, if you wish to amend your Will. There is no charge to retrieve and return your documents into storage.
Here are some of the benefits of the National Will Safe service:
Your documents are stored in a specialist secure document archive.
You receive a receipt with your unique storage reference so that you know your Will and other documents are being stored securely.
The Executors of your Will receive credit card size ID cards so that they know where your Will is stored and can eventually retrieve it on production of a death certificate.
Fast, security checked retrievals. When you need your documents they are usually sent within 24/48 hours of receiving your request.
Registration of location of your Will on Certainty, the National Wills Register for the UK, so that its location can always be found.
All Wills and documents are insured against loss or damage.
You don't pay twice! Storage of your partner's important documents is included saving you an additional fee.
I will make copies of your Wills for you to keep as reference before sending the originals into secure storage.
Choosing the National Will Safe assures you peace of mind knowing that your important documents are guaranteed safe and secure.
Other options
There are, of course, other options that you might consider:
At home
You might be tempted to store your Will in a safe place at home. Of all the options, this is probably the worst place to store it. At home your Will can so easily be inadvertently thrown away or damaged by fire, flood and pests including little Johnny who might find it when looking for colouring paper and draw pretty crayon pictures all over it! And little Johnny is not the only relative who may cause problems. It is not unknown for relatives to destroy a Will if they did not like its contents.
If you are intent on storing your Will at home, then do invest in a proper fire and flood proof document box.
At the Principle Probate Registry
The Probate Service offers a Will storage service. There is a fee of £20 per Will deposited.
You can only store Wills and Codicils with the Probate Service. You cannot store other important documents such as Lasting Powers of Attorney.
You can withdraw your Will at any time, for example to make amendments, but you have to pay the deposit fee again if you wish to return the Will to storage.
At your bank
This is the one place NEVER to store your Will. This is a Catch-22: the bank will only allow your executor access to your bank box with a grant of probate, but a grant of probate can only be obtained with the original Will!
Wherever you choose to store your Will, please do so safely and securely and inform your Executors where it is stored and how they can access it.